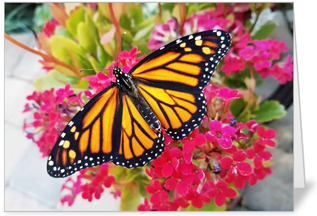 01 Oct

Monarch Butterflies in Severe Decline

There Were 1 Billion Monarch Butterflies. Now There Are 93 Million.
https://www.esquire.com/news-politics/politics/a23472939/monarch-butterflies-endangered-pesticides-climate-change/


A must-read article about how the iconic Monarch Butterflies have declined 98% in the last 20 years.
Humans have caused it and humans must reverse it.  They not only bring awe, beauty and wonder to our lives, A
they pollinate the wild flowers from which bees get nectar and then pollinate our crops.

Without pollinators, there is no agriculture—and without that, there is no food.

What can YOU do?
1. Read the article and get informed
2. Fight to protect the EPA from the current administration's desire to dismantle it.
3. Stand up to Monsanto, sign petitions, call senators and representatives when asked to get
Round-UP/glyphosate off the market
4. Stop using Round UP in your garden. ONLY use organic methods to fertilize and fight off pests.
5. Contact EPA and ask that monarchs be put on the Endangered Species List.
6. Stay informed. Read more at http://www.monarchjointventure.org – a non-profit
created to help distribute funds from US government to rebuild habitat for monarch butterflies.


Gorgeous Monarchs born in my garden this year – FEMALE on the right; MALE on the left.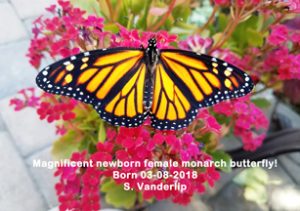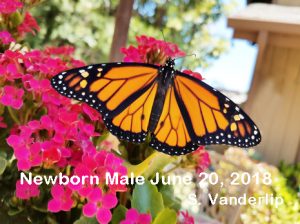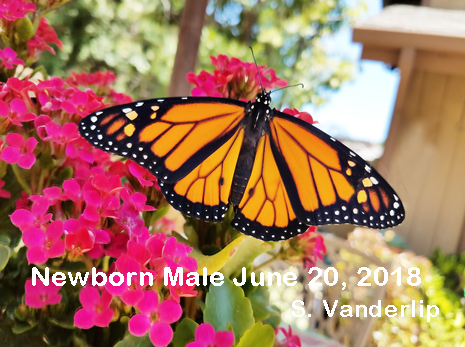 To help promote awareness of the plight of monarch butterflies, purchase greeting cards from 
Susie's Butterfly photo cards and let others know. Percent of proceeds go to National Resources
Defense Council, The Nature Conservancy and Monarch health – all non-profits working to 
save monarch butterflies.  http://www.svgreetingcards.com