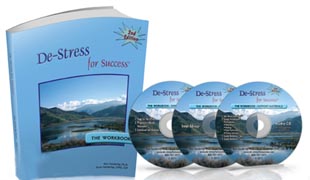 18 May

Elevated Radio Interviews with Susie Vanderlip

5/8/19 – Susie shares insights into how emotions impact our choices. Listen to how we are taught to "hide, deny and suppress" our feelings"
by our families, culture and society. And yet, emotions color every choice we make, consciously and unconsciously. Susie encourages
facing our feelings and using tried and true mindfulness tools to relax and process emotions through the body, the mind and the spirit.

5/15/19 – Susie focuses on ways to deal with emotions through our physical nature by:
– focusing on breathing. Susie shares a specific technique with the audience.
– physical activity/exercise to bring our focus into the present – Yoga, dance, etc.
– Nature – gardening, noticing the sky, consciously choosing to use our senses to notice details in our surroundings.
All of the tools and techniques Susie shares in her radio broadcast are in the Vanderlip's
De-Stress for Success Workbook with Multi-media
Available in Soft cover book with DVD and CD's and eBooks on the SHOP – Purchase NOW  
http://vanderlip.com/product-category/de-stress-for-success-products/