Contact:  800-707-1977
SOS Dance Crew is a group of seniors from 60 to 93 years old with amazing spunk, energy, and enthusiasm and that love to inspire others, young and old, to dance and exercise throughout life. The dance group was founded in 2014 by Zumba Gold Instructor, Susie Vanderlip, with a dozen of her senior students.  Every one of her students found that ever dance exercise class left them happy, energized, and full of life. The mission of SOS is now to share that joy through dance and to  inspire others through performances and FLASH MOBS in the most unexpected and amusing places!
The first FLASH MOB was in 2014 at a Starbucks in Orange, CA, sharing what SOS thinks is the perfect theme song for both Starbucks and the Dance Crew: "That's the Way (I Like It)!" In 2015, that Flash Mob was featured in a Starbucks ad campaign in several online magazines:
The 12 Craziest Things That Have Ever Happened at Starbucks
(Check out #9 – SOS Dance Crew Flash mob!)
Since then, we have performed Flash Mobs every year for the Aquarium of the Pacific 'Seniors Day', multiple Irvine Global Village Festivals, and a Flash Mob every spring at Albertson's Grocery Store on Chapman in Orange, Ca, to uplift and inspire shoppers and employees! The first Albertson's Grocery Store Flash Mob, dancing down the store aisles to the check stands, garnered 140,000 views on Facebook! In addition, SOS Dance Crew auditioned for the 2016 Season of America's Got talent and performed a professional program for the STEAM Conference of 2,000 attendees at the Anaheim Convention Center in December, 2019. We also have consistently presented high-energy 45-minute dance programs at senior living/assisted living facilities to entertain and uplift assisted living and memory care elderly.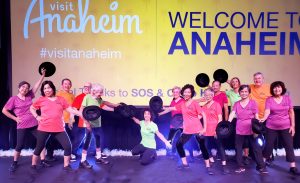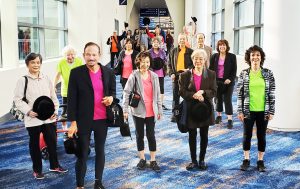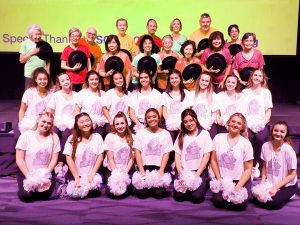 In December of 2019, SOS Dance Crew was hired by the Anaheim Visitor and Convention Center in conjunction with the California Teachers Association STEAM Teachers Conference to Flash Mob their annual convention for over 2,500 attendees! We collaborated with the Chino Hills High School Dance Team to create a rousing and uplifting Flash Mob that energized the entire crowd.
Flash Mob VIDEO https://youtu.be/CQR5erxliFc
Big Screen Projection VIDEO  https://youtu.be/t7I2typVn-4
SOS Dance Crew was founded by Director and Zumba Gold Instructor, Susie Vanderlip from a class at Custom Bodies Fitness in Irvine, CA. The SOS Dance Crew is a family of culturally diverse seniors (African-American, Caucasian, Chinese, East Indian, Japanese, Pilipino, Taiwanese, Latin, and more). We continue to rehearse and hold Zumba Gold class every Tuesday and Thursday morning from 9:30am-10:30am at Custom Bodies Fitness in the Momentous Sports Center at 14522 Myford, Irvine, CA. Come join us!
SOS Dance Crew believes that "EVERY BODY can DANCE!" And wish to inspire everyone of all ages to get up off the couch and MOVE!
Do it for your health. Do it for FUN! Do it to EMBRACE LIFE!
Enjoy Videos below!
SOS Dance Crew Photo Album here!
SOS Dance Crew Testimonials here!
SOS Dance Crew Bios here!
SOS Dance Crew Performance Calendar
Letter of Recommendation: 2019-10-24 The Covington Letter of Recommendation