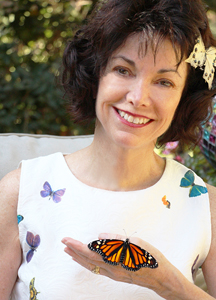 All Susie Vanderlip's Reviews received have been 5-STAR REVIEWS!!
Co-President
Bivian Marr from Laguna Woods, California – 01/28/2021 15:02:21
Susie Vanderlip communicates her-interest. knowledge and enthusiasm for Monarch Butterflies with exciting visuals in a way that convinces everyone to join her in saving Monarchs from extinction. She is flexible, available and easy to work with. Anyone would enjoy her presentations and be captivated by the intricacies of the Monarch's life cycle presented in an interesting and understandable way. An Excellent presenter!
Zoom at it's best
Jorja from CA – 11/30/2020 14:17:11
I have seen Susie both live and now via Zoom and she was phenomenal in both. She is informative as well as entertaining and her photos are fabulous. I highly recommend Susie as a speaker.
Zoom Speaker: Monarch Butterflies
San Pedro Garden Club from San Pedro, California – 11/24/2020 17:21:06
Great Zoom lecture, with Power Point presentation, lots of photos and how-to's on protecting and gardening for Monarch Butterflies. Wonderful !!
Passionate Speaker
Robin Corwin from Southern California – 10/21/2020 13:32:04
Susie spoke on Zoom to our Compulsive Gardeners Group. She is an energetic speaker and passionate about Monarch butterflies, whose numbers are greatly diminishing. She speaks about how to encourage them to your garden with native milkweed plants for the larva and nectar plants for the butterflies. Her photos and videos show in detail the incredible life story of a Monarch from egg to butterfly. What amazing and beautiful creatures! She also has books and videos children will enjoy. Highly recommended.
Compulsive's Class Yoga
Deborah Moser from Sierra Madre – 01/25/2020 15:21:32
Susie was fabulous! All the seniors in the class thoroughly enjoy AND participated in Yoga program. We hope to have her back again for Yoga and to speak to us on the Monarch Butterflies very soon. Thank you Susie!
Learn about Monarch Butterflies
Matt Marowitz from Dana Point – 06/15/2019 13:15:41
Susie does a great job giving an easy to understand presentation on Monarch Butterflies. She has lots of energy and makes it a fun learning experience. Her passion for Monarchs really shines through during her talk. We were very happy to have her talk in Dana Point.
Energy and Knowledge–Awesome CombinationShirley K Vargas from Indianapolis – 04/17/2019 19:41:11
Susie is a high energy speaker with inner knowledge of monarch butterflies when you thought you had heard it all. Her colorful video, Chester, takes one to the hidden life of the monarch.
Susie is a delight in demonstrating yoga for the gardener–simple actions that help before and after gardening.
The Herb Society of Indiana thoroughly enjoyed her presentations and would invite her again.
Monarch Butterflies
Diane Camarata from Palos Verdes Peninsula – 03/04/2019 23:15:03
Susie is a fantastic speaker and was so interactive and engaging with Silver Spur Garden Club members.
We learned a lot in a most fun and enjoyable way. A great time was had by all. We will certainly be asking her back for "Yoga for the Gardener".
Monarch butterflies
Ginny Clark from Long Beach, Ca. – 02/13/2019 21:33:24
Wonderful program and Susie so energetic and delightful in her presentation and in person.. We would rate her a 5 star and would love to have her back for the Naples Islands Garden Club.
Engaging
Kay Miller from Fullerton – 11/13/2018 18:02:42
Susie was our speaker at the annual meeting of Fullerton Beautiful. She captivated us with her story, her enthusiasm and her experience – in nurturing Monarch butterflies for over 25 years.She answered many questions and we all left inspired that we, too, can help these creatures in their journey.
Yoga for Gardeners
Kathle from Brea, CA – 09/12/2018 15:29:37Susie gave a wonderful presentation on Yoga for Gardeners with a great demonstration video. She led us in the exercises and inspired us to move carefully as we garden. Very inspiring. I highly recommend Susie as a garden club speaker..
Excellent Speaker
Margaret Harris from Whittier, CA – 09/10/2018 19:11:05
Our "Garden Thyme Club" has greatly enjoyed 2 programs by Susie. Monarach Butterflies & also Yoga for Gardeners. She is a very engaging & energetic speaker & we all had a good time with her as speaker!
Butterfly Gardening
Judy Ryan from Lafayette, CA – 11/13/2017 15:56:23
The garden club audience was mesmerized by Susie's presentation on Butterfly Gardening, with a focus on Monarch butterflies. The presentation slides were beautiful, even including video from her 'Story of Chester' DVD. I would highly recommend Susie Vanderlip as a speaker.
Fabulous Knowledgeable Speaker
Kathleen Mitzen from Brea CA – 10/04/2017 15:00:33
Our garden club thoroughly enjoyed this wonderful speaker. She is very knowledgeable about monarchs. We loved her lively presentation and were inspired to plant milkweed to help the butterflies.
Susie for Garden Clubs
Maureen Witte from California – 06/16/2017 20:47:33
Susie Vanderlip was the speaker at our June Palmia Garden Club Meeting, and she did a terrific job. She is organised, vivacious, energetic, and very well informed. I highly recommend her to speak to garden clubs. Now I'm watching the milkweed plants in my garden as they are devoured by the caterpillars that will become gorgeous monarch butterflies! Our club members loved her presentation!!!
Monarch Butterfly Program
Doug Lithgow from Huntington Beach – 05/22/2017 11:35:26
Susie Vanderlip presented a program on Monarch Butterflies to Sea and Sage Audubon at the San Joaquin Wildlife Sanctuary on May 19. I found her to be a very informative and dynamic speaker with a wonderful ability to engage the audience. She dealt with a few technical hiccups in a professional manner and stayed on point during her talk. She did a great job and we were happy to have her.
Monarch Butterflies
San Pedro Garden Club from Rancho Palos Verdes – 05/04/2017 12:40:27
Many members came up to me after Susie's presentation on Monarch Butterflies to say how much they enjoyed her. Lou
Excellent, fantastic, personal, Master Gardeners-Riverside Co from Hemet – 02/10/2017 12:13:49
The Monarch Butterfly presentation is excellent and Susie brings to life and shows first hand with images their amazing life cycle & habits. Good for all ages!!!
Wonderful Speaker
Diane Riopka from Laguna Niguel, CA – 02/05/2017 19:32:12
Susie was entertaining, energetic, organized, and provided valuable information on the life cycle of the Monarch as well as how to attract Monarchs to one's garden. She also addressed the controversy of tropical vs. native milkweed for Monarchs. Her presentation was further enhanced by great written, audio, and visual materials.
Dynamic Speaker
Marilyn Rubin from Torrance – 11/01/2016 19:54:29
Susie Vanderlip is a dynamic presenter. Our audience of over 50 garden club members totally enjoyed Susie's program. She mesmerized us with incredible live action visuals of monarch butterflies during their various stages of development. Susie explained to us how she was able to attain these amazing shots. She motivated our members to want to plant the monarch butterflies' host plant, milkweed, in our yards and gardens; and she taught us how to nurture those milkweed plants once established. Susie narrates a well-prepared media show to her audience. She has created a DVD and a charming fictional book, The Story of Chester, about monarch butterflies, both of which are totally appropriate for young elementary school students. The Riviera Garden Club in Southern California highly recommends Susie Vanderlip as a speaker for garden clubs, elementary schools and other organizations interested in nature.
DAR -State Project Speaker
Karla Stahlman from Arcadia, CA – 10/25/2016 11:00:05
We hired Susie to speak about the Monarch; our state project is directed at fund raising to 'Save the Monarch'.
We were not disappointed! Susie gave such an inspiring and enthusiastic talk, full of great
technical information balanced with the whimsy of Chester the Caterpillar. She is a total professional in every way- our event was a great success-thank you Susie!
Monarch Magic
Irene Gonzalez from Yorba Linda, California – 04/26/2016 03:51:46
I was honored to have Susie Vanderlip as a speaker, where she WOWed our audience made up of senior members of St. Martin de Porres, with her dynamic energy, keen knowledge, and her contagious enthusiasm on the life cycle of the Monarch caterpillar and butterfly! Our Seniority Club absolutely loved her presentation! She's awesome!
Dedicated Speaker
Gerri Lewis from Orange,Ca – 04/19/2016 00:16:45
Susie's presentation was the best organized and most thoroughly researched that I have heard in years!
The City of Dana Point – Monarch Butterfly
Sean Vogt and Corey Stafford from Dana Point, CA – 04/17/2016 15:52:15
Susie Vanderlip presented to the City of Dana Point at our monthly Science Night at the Dana Point Community Center on Wednesday, April 13th from 6PM-8:30PM. 50 people attended our event that night to learn about the beauty of the Monarch Butterfly.
Her presentation on the Monarch Butterfly captivated the audience and inspired everyone to raise awareness on the importance of this amazing creature. Her enthusiastic nature projected through her entire presentation and we couldn't be happier with the success of the night. She is great for all ages! Chester is a fascinating story and really gives people an insight into the process these insects go through in their lives. She even brought handouts, milkweed seeds, and an actual Monarch Butterfly chrysalis to show her viewers.
We received many great reviews from her lecture on Science Night and look forward to working with her in the future!
Woman's Club of Orange-Garden Section Program Chai
Sandy Keil from Orange, CA – 04/01/2016 15:56:18
It was a delight making the arrangements to schedule Susie as our March speaker. Her program was joyful, informative and filled with real insights into how her interest, knowledge and passion for monarch butterflies developed. Her presentation has garnered so many wonderful comments from the members of our garden group. She shared so much of her enthusiam and warm and friendly style. They all expressed their gratitude to Susie for providing such a lovely well organized and visually stunning program. It would be my pleasure to recommend Susie to others interested in having her as speaker.
Teacher STEM Workshop
Holly Steele from Fullerton, California – 02/17/2016 00:06:50
Susie shared her wonderful work with monarch butterflies with our K-2 STEM Certificate program teachers. Her passion and enthusiasm were absolutely contagious and the participating teachers were thoroughly engaged in her presentation. Many stayed after to take pictures with her and she was kind enough to autograph books for our teachers. I hope that we can have her share with a new cohort of teachers next year!
Monarch Butterfly Lecture
Michelle schiman from CA – 11/05/2015 19:11:11
I'd like to thank Susie for her time! Everyone enjoyed her presentation and information! She has a real gift in speaking to all ages at once. The children had fun and the adults learned a lot. I think everyone was influenced on the life and beauty of this amazing creature. Very well rounded and informative program.
Program
Colleen Wood from Corona del Mar – 10/16/2015 23:22:20
Susie is a very enthusiastic and knowledgeable speaker on the Monarch Butterfly. Our garden club thoroughly enjoyed her program and learned more than they ever thought possible!
Engaged the entire audience
Lynn Jax from CA – 03/18/2015 04:40:04
Susie engaged the entire audience for her hour long presentation. Humorous, informative, and passionate best describe her presentation on Monarch butterflies for Laguna Beach Garden Club