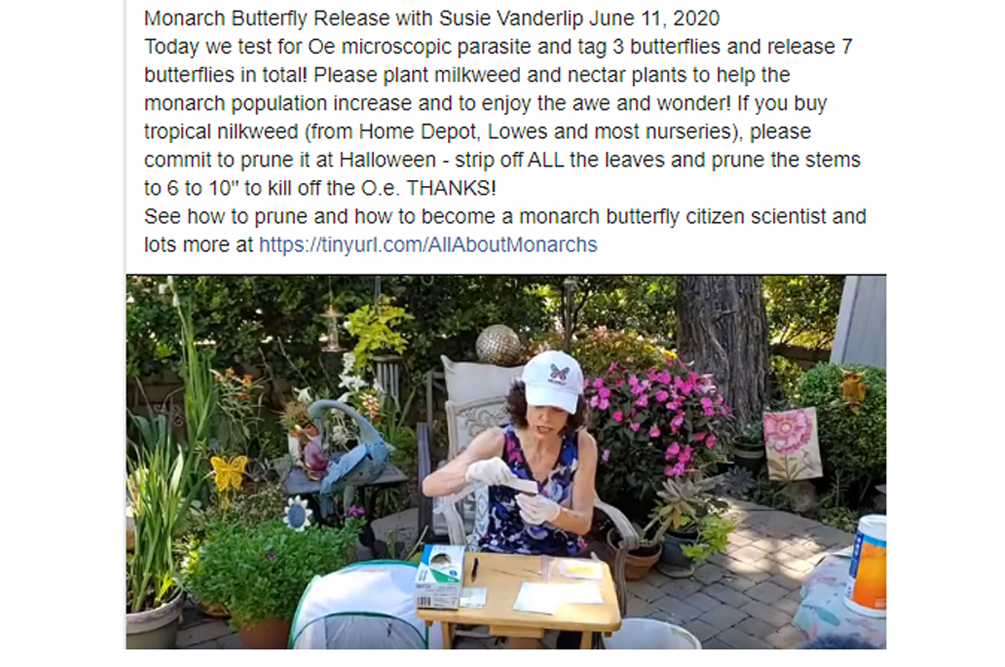 13 Jun

Monarch Butterfly Release – Thursday, June 11, 2020 – Testing for Oe and Tagging New Monarchs

In this Monarch Butterfly Release, see how newly eclosed (emerged) monarchs are tested for O.e. and tagged by Susie Vanderlip, Monarch Butterfly Citizen Scientist.
If you would like to learn how to become a Citizen Scientist as well, check out the entry in this Blog or email thru Contact on my website here.
Monarch Butterfly Release with Susie Vanderlip June 11, 2020Today we test for Oe microscopic parasite and tag 3 butterflies and release 7 butterflies in total! Please plant milkweed and nectar plants to help the monarch population increase and to enjoy the awe and wonder! If you buy tropical nilkweed (from Home Depot, Lowes and most nurseries), please commit to prune it at Halloween – strip off ALL the leaves and prune the stems to 6 to 10" to kill off the O.e. THANKS! See how to prune and how to become a monarch butterfly citizen scientist and lots more at https://tinyurl.com/AllAboutMonarchs

Posted by Susie Vanderlip on Thursday, June 11, 2020