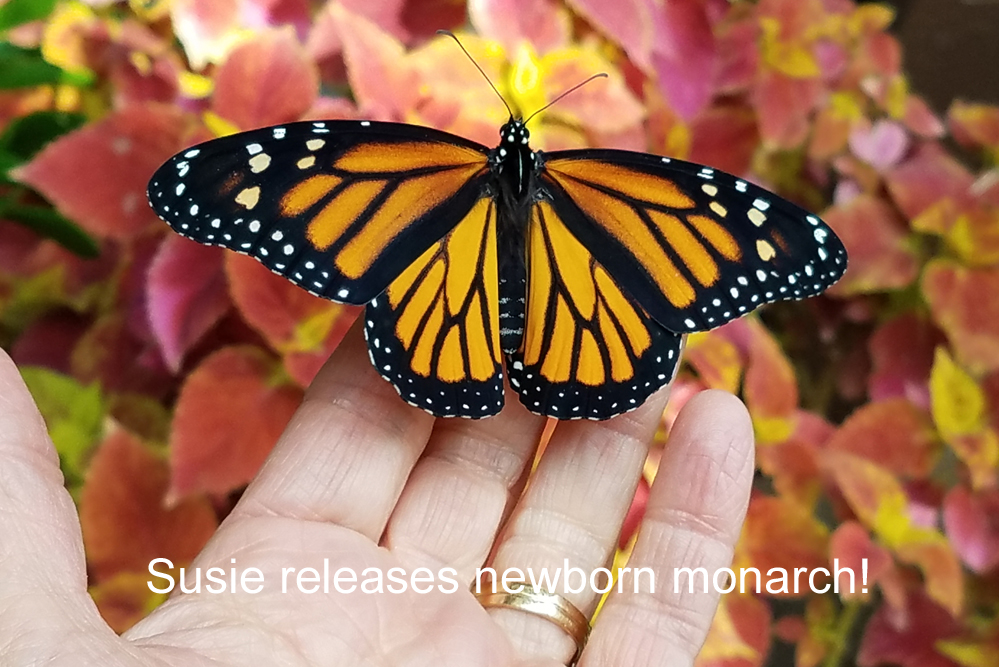 04 Aug

First Flight of Newborn Monarch Caterpillar
---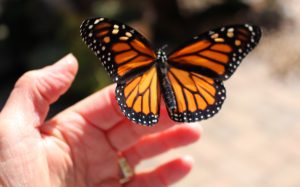 Another awesome moment in raising monarch butterflies is the release of a newly eclosed (emerged) monarch! When raised in a habitat, they make their chrysalis on the top
of the habitat so newborns hang there and can be released after the necessary 2+ hours of drying, hardening and testing their wings. They can stay in a habitat for 24 hours before releasing in case
of a rainy, bad weather day. However, most monarchs are eager to be released within 4 hours and will flit off into the wild blue yonder as soon as released.  It is amazing to see how strong and able, how high and fast they can take off into their new life! Some may not be ready and will take a short flight, landing quickly on the ground. It is OK to stick your fingers under their feet, let them hang from a finger, take a fun photo, and then place it on a strong stem to hang until it is ready to take off. On hot days, it may be a few minutes. On cooler days, maybe a few hours.
Watch an awesome first FLIGHT of a newly eclosed Monarch Butterfly on Nov 11,2015
https://youtu.be/70h2l8PlNUg
More Monarch Butterfly releases on my Monarch YouTube Playlist:  http://www.tinyurl.com/LoveMonarchs