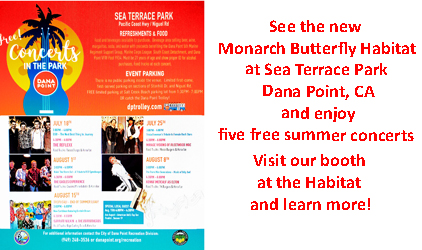 17 Jul

Sea Terrace Park Habitat in Dana Point

On July 7, 2021, a group of volunteers directed by me (as Monarch Watch representative) and Marianne Hugo (pollinator habitat consultant) planted a brand new Monarch Butterfly Habitat at
Sea Terrace Park in Dana Point, California. The City of Dana Point is enthusiastically committed to bringing monarchs back to Dana Point and Monarch Beach, sister cities. This is the first park to be planted with hope for more in the future. You can come see the Habitat AND listen to great concerts in the park for five Sundays in a row, starting Sunday, July 18th. The concerts are free and we will have a booth at the back of the venue at the habitat to answer monarch butterfly questions!