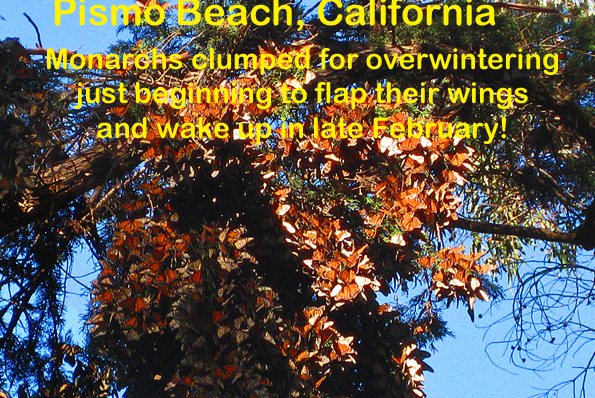 18 Jan

200,000 Monarchs Overwintering in Coastal California at year end 2021

REMARKABLE GOOD NEWS FOR OUR WESTERN MONARCHS! 200,000 Monarchs Overwintering in central coast California right now!

For years, Monarch populations have been plummeting, victims of habitat loss, environmental toxins and climate change. Experts say the Western Monarch butterfly population has declined by more than 99 percent since the heyday of the 1980s.

That's why it feels so miraculous that the butterflies may finally be making a modest comeback. This year, the Monarch butterfly count found 200,000 butterflies, up from a record low of less than 2,000 last year. That is a remarkable increase. And yet, scientists haven't got an explanation as to how that increase occurred! 2,000 migrants from 2020 could not propagate sufficiently to create that increase in 2021. That means monarchs from other location contributed. Maybe from monarchs that stayed resident in southern California throughout the 2020 Dec thru March overwintering time frame. Maybe from monarch populations unknown in southeastern California or Utah. Maybe because so much new habitat was planted in spring thru summer 2021, that unknown numbers of monarchs were born. Researchers and conservation organizations are scratching their heads and designing research to pursue the answer while continuing to advocate every chance they get for planting more milkweed and nectar plants everywhere possible: Urban gardens, golf courses, freeway medians, farmland, open land.
Here they are roosting together at Pismo Beach! A beautiful cluster of several hundred monarchs.
Read more:
Catch the Monarch butterfly migration in Pacific Grove right now (mercurynews.com)
Monarch Butterflies Return to Goleta's Ellwood Mesa | Edhat
Monarchs will be overwintering in Central Coast California through the middle to late February. As temperatures start going up into the 60's in February, they will wake up, start nectaring, mating, and heading out up and down California. Some western monarchs have stayed in southern California and continued to breed, maintaining a year-round resident population. It is small in comparison to the explosion of monarchs that occurs April thru October, with the greatest number of successful newborns May thru July. By August, predators have also multiplied and many monarch caterpillars become prey to tachinid flies that lay their eggs in them, wasps, and lizards as well as an increase in O.e. that can disable newborn monarchs.
Start planning your Monarch Waystation now! Plant milkweed and nectar plants, native wherever possible, in March and April, and watch the miraculous monarch life cycle unfold in your very own garden!
Read more on our blog at  www.tinyurl.com/AllAboutMonarchs